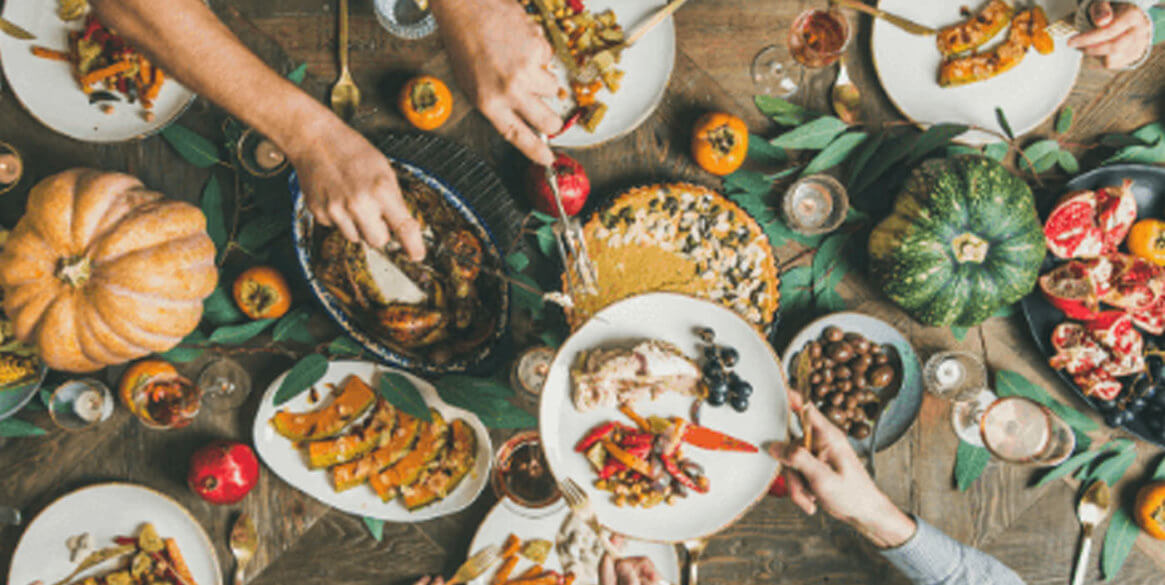 Thanksgiving is one of the most delicious holidays and luckily for us, it's right around the corner! Whether you are hosting a Thanksgiving dinner with family from far away or a Friendsgiving with friends and neighbors right next door, here are ten tips for hosting a successful (and delicious) Thanksgiving or Friendsgiving celebration.
#1 Assign Seats
When hosting a holiday dinner, like Thanksgiving, get festive and create holiday inspired name cards for all of your holiday guests. You can even create a simple tablescape by covering your dining table in brown packing paper, grabbing a gold marker and writing everyone's name by their place setting. If you have extra space, add in some additional lines so your guests can write down what they are thankful for this year. Assigned seats might not feel necessary if everyone knows each other, but if you're mixing new people together, it can relieve stress for guests about where to sit.
#2 Avoid Allergens
Hosting holidays has never been so complicated before. Nowadays, almost everyone is actively avoiding foods that may cause allergies or inflammation. Instead of making multiple meals to meet all of your holiday guests' dietary preferences, avoid allergens all together by choosing foods that use premium, hand-selected ingredients and are free of the top eight allergens. Remember, free from food doesn't have to be bland or boring either.
Fact: All of our foods are free of the top eight allergens and are also certified Kosher, free from refined sugar, high in fiber and suitable for both Vegans and non-Vegans.
#3 Create Custom Cocktails and Mocktails
When hosting Thanksgiving or Friendsgiving, create custom cocktails and mocktails for your guests to sip and savor all day long. Whether it's hot apple cider or a batch of homemade mulled wine, get in the holiday spirit and channel your culinary creativity. Cheers!
#4 Delegate Dishes
Hosting a holiday dinner can be a big undertaking even if you are a seasoned vet, so don't be shy to delegate dishes to your holiday guests. Whether it's appetizers, desserts or side dishes, have all of your holiday guests help out. Claim the dishes you love to cook and let other people take the rest. Remember to be very specific when designating dishes so there aren't any duplicates. Looking for some recipe ideas? Check out all of our recipes here.
#5 Free Up the Fridge
A few days before Thanksgiving, start clearing out the fridge and freezer to make space for your holiday recipes and future leftovers. It may sound super simple, but something like this can save you a lot of stress the day of your holiday hosting.
#6 Have a Head Count
Whether you are hosting a small, intimate affair or a larger, elaborate holiday celebration, make sure you have enough food and wine for all of your guests. Here is a helpful portions chart from Whole Foods to help you plan for your holiday headcount. When it doubt, always prepare extra.
#7 Make Your Own Stuffing
Nothing says the holidays like a heaping spoonful of homemade holiday stuffing. Made with quality ingredients like BFree white loaf, fresh thyme, garlic cloves, olive oil, onions, fresh orange zest and pine nuts, this recipe is super simple to make and only requires three easy steps!
#8 Thanksgiving To-Go
Since everyone's eyes are usually bigger than their stomachs, you will most likely have holiday leftovers, so stock up on to-go containers before your Thanksgiving event so you can dish up to-go plates for all of your holiday guests. Make planning even simpler by asking all of your guests to bring their own storage containers.
#9 Sweet Send Off
One of the best parts about Thanksgiving is dessert. This year, skip the sweet treats that are laden with processed sugars and other artificial ingredients and instead, enjoy more mindful dessert options that are made with carefully sourced ingredients and high quality products.
#10 Enjoy the Moment
Food is one of life's greatest facilitators of friendship, fun and good times, so remember, Thanksgiving or Friendsgiving does not have to be perfect. There may be some hiccups along the way and that's okay. At the end of the day, if you are surrounded by family and friends, you have a lot to be thankful for and after all, isn't that what Thanksgiving is all about?
Tag us @bfreefoods so we can see how you host Thanksgiving and Friendsgiving using your favorite B-Free Foods.