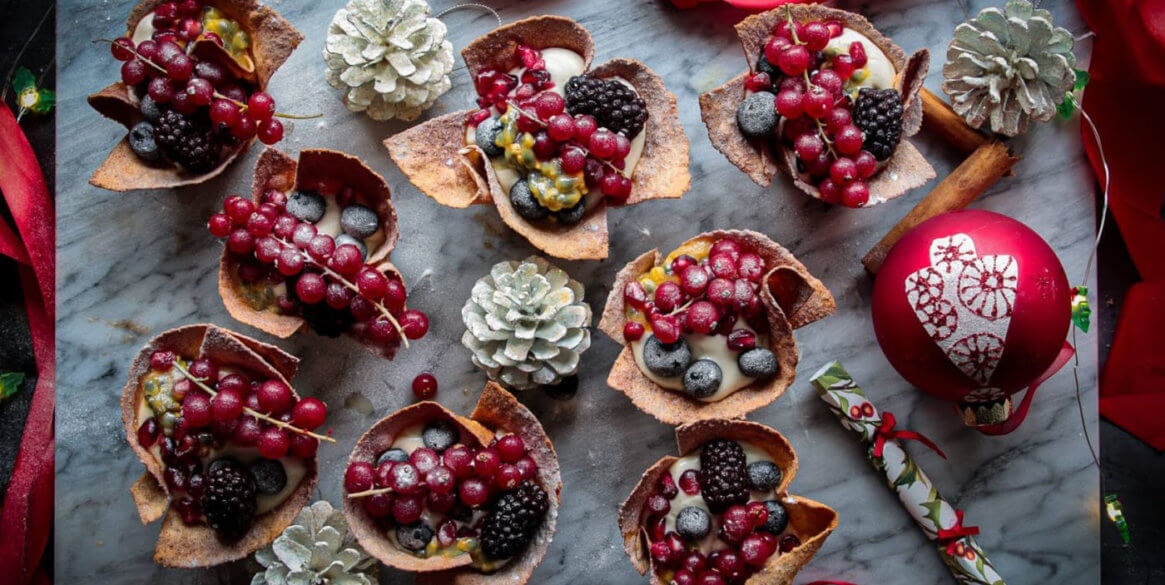 The holiday season is here, which means gathering together with family, friends and neighbors and celebrating the most wonderful time of the year with good food. Whether you are hosting a holiday celebration or attending one, here are five recipes perfect for the holiday season. Bonus: All of these recipes are gluten-free.
#1 Cheesecake Dessert Cups
The holidays wouldn't be complete without a sweet treat. Instead of serving up holiday cookies or pies, create individual desserts for all of your holiday guests like these Cheesecake Dessert Cups. Select your favorite BFree wraps (Multigrain, Sweet Potato or Quinoa and Chia Seed), and fill them with delicious holiday ingredients like a creamy homemade vanilla cream cheese and sweet toppings like brightly colored berries or fresh passion fruit. For a wintery touch, sprinkle a light coating of icing sugar before serving to holiday guests.
#2 Christmas Sprout and Chestnut Pizza Wreath
When you think of the holiday season, you may not think of pizza, but pizza makes for the perfect holiday appetizer or snack, especially if you give it a Christmas twist. This recipe for a Christmas Sprout and Chestnut Pizza Wreath is perfect for all of your holiday guests to enjoy. Using BFree Stone Baked Pizza Bases and classic toppings like a rich tomato sauce and ooey gooey Vegan cheese, these pizza wreaths will go perfectly on your holiday table. Instead of using traditional toppings, use some more festive foods like Brussel sprouts, chestnuts and bright red pomegranate seeds. Someone save us a slice!
#3 Gluten Free and Vegan Christmas Stuffed Pita
The holidays are filled with a lot of good food, but if you are looking for a way to sneak in more vegetables, try this recipe for Gluten Free and Vegan Christmas Stuffed Pittas. Made with BFree Pita Breads, this recipe is packed full of savory ingredients like dried cranberries, onion and sage gluten free stuffing, red cabbage, roasted chestnuts and salad greens. All of your holiday guests will love these holiday inspired stuffed pitas and they won't even realize they are getting a hearty serving of veggies.
#4 Mixed Christmas Crostini
These Mixed Christmas Crostinis are the ultimate recipe for all of your Christmas parties. Using BFree Bake at Home Demi Baguettes, choose from three different holiday toppings or make all three together so holiday guests have a wide variety of options to choose from. Topping options include: beet, orange and dill (option #1), pomegranate, cranberry and orange (option #2), or roasted fig rocket and pine nut (option #3). Mix these Christmas crostinis on a large serving platter to display them in all of their Christmas glory before guests eat them all up.
#5 BFree Easy Bruschetta
Start your holiday party off right with a platter of BFree Easy Bruschetta. Made with BFree Bake at Home Baguettes and fresh ingredients like Balsamic vinegar, garlic cloves, mixed herbs and plum tomatoes, this dish makes the perfect holiday appetizer or snack. For an additional touch of holiday flare and flavor, top your homemade bruschetta slices with extra plum tomatoes and fresh sprigs of bright green basil. The red and green will be perfect for your holiday tablescape.
Savor the holiday season this year with these easy and delicious gluten free recipes perfect for all of your holiday guests!
Tag us @bfreefoods so we can see all of your gluten free holiday recipes using your favorite B-Free Foods.