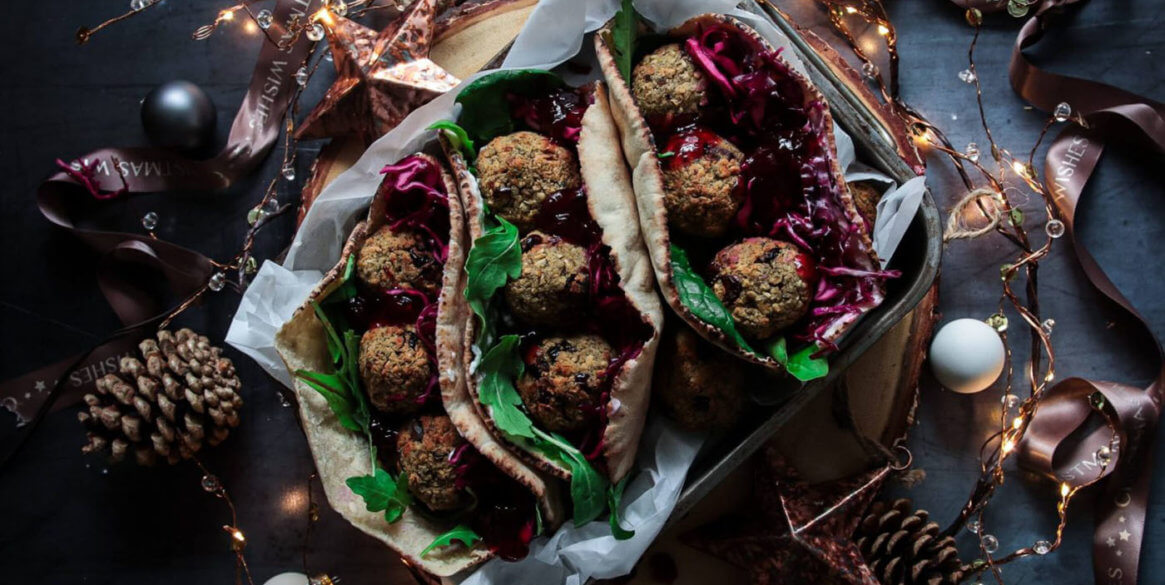 Ingredients
Gluten Free

Dairy Free

Vegan Friendly
Serves 4
Stuffing Balls
1 x 150g packet of sage and onion Gluten Free stuffing Mix (I used Paxo)
Full ¼ cup crushed roasted chestnuts
Full ¼ cup roughly chopped dried cranberries
1 tbs plant butter
Red Cabbage
½ medium red cabbage shredded
Juice 1 large lemon
2 tsp sea salt
To Serve
1 packet of BFree Pita Breads
2 cups of Arugula or other green salad leaves
8 tbs vegan mayo
Cranberry sauce
Method
1
Pre heat the oven to 200°C.
2
Mix the dry Stuffing with the cranberries and chestnuts and add the required amount of boiling water as per packet instructions. I usually add a little more if I feel the mix is a little dry. Stir in the butter and set aside to firm up.
3
In a bowl combine the shredded cabbage with the lemon and salt and scrunch together with your hands. Set aside.
4
When the stuffing has firmed up form into 12 golf ball sized balls. Place on a lined baking tray and drizzle with a little light oil.
5
Place in the pre heated oven for 20-25 minutes or per the packet's instructions.
6
When the stuffing is ready, lightly toast the Pita Breads.
7
Spread the inside of one side of pitta with mayo, fill with arugla leaves, red cabbage, 3 stuffing balls and little dollops of sweet cranberry sauce.