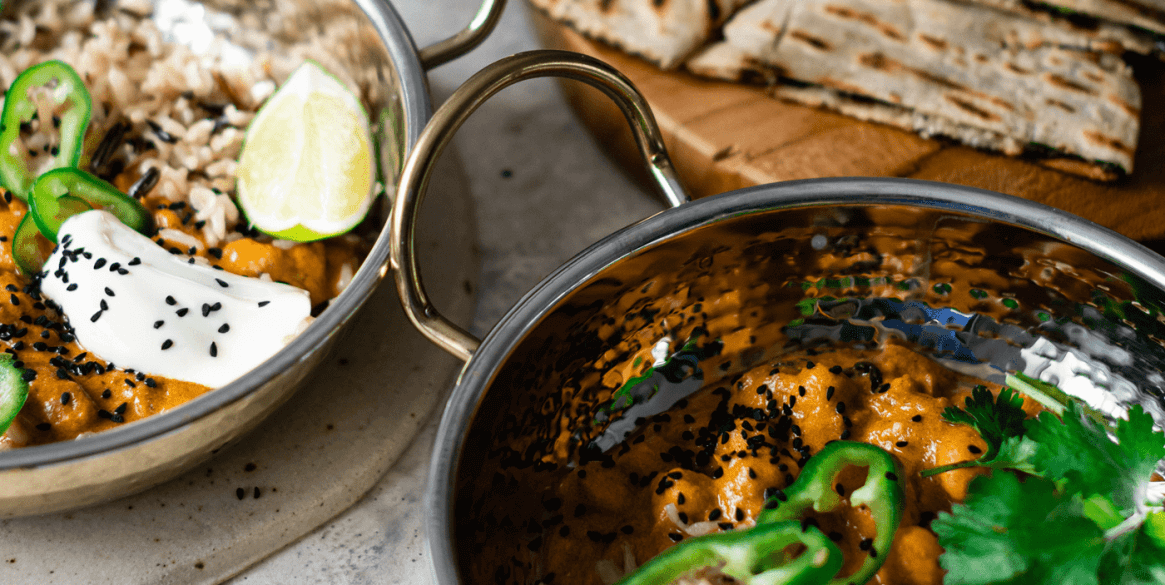 Ingredients
Gluten Free
For the Curry
1 jar of good quality Tikka masala paste
800g chickpeas or 2 tins drained and rinsed
1 tin chopped tomato
500ml vegetable stock
300ml plain yogurt
1 medium onion diced
Large thumb sized piece of ginger grated
4 fat garlic cloves grated
Punch of coriander stalks chopped (optional)
2 tbs light oil
Good pinch of salt and lots of freshly ground black pepper
Juice of 1 lime
Peshwari Pita Naan
1 packet BFree Pita Breads
4 tbs ground almond
4 tbs desiccated coconut
2 tbs caster sugar
2 tbs raisins or sultanas
1 tsp black onion seeds (optional)
Small bunch coriander leaves
A pinch of salt and black pepper
To serve
Basmati rice
Sesame seeds
Black onion seeds
Fresh coriander leaves
4 tbs plain yogurt
Lime wedges
Method
1
In a large pan sauté, the onions until translucent and lightly caramelized.
2
Add the grated garlic, coriander stalks if using and ginger and stir to combine, continue to cook for a minute or so before adding the curry paste, stir again and continue to cook until fragrant.
3
Add the chopped tomatoes, chickpeas, veggie stock and stir to combine, bring to a boil and then reduce to a simmer. Cook on a low heat for a bout 20 minutes.
While the curry is cooking, combine all the ingredients for the pita naan, except the coriander in small bowl. Set aside.
4
Spilt the pita breads on one side and spread evenly with the filling, if using add the coriander leaves.
5
Just before serving heat a gridle pan or regular frying and cook the pittas on each side for a few minutes, until charred and the sweet butter mix has melted.
6
Cut each into three and keep warm until ready to serve or serve immediately.
7
Just before serving stir in the plain yogurt, the juice of a lime into the curry, along with some salt and pepper. Check for seasoning and adjust accordingly.
8
Serve with rice if you with and garnish with any of the suggestions above.