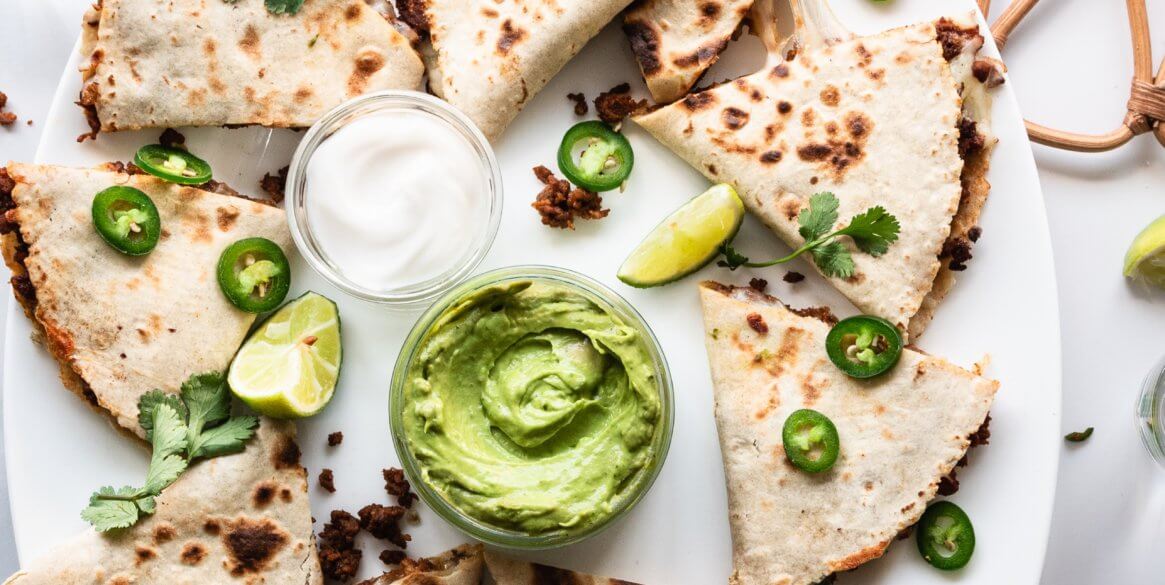 Ingredients
Gluten Free
Spicy 'Beef'
220g vegan mince or regular
1 tbs light oil
2 garlic cloves minced
1 heaped tsp ground cumin
1 heaped tsp smoked paprika
½-1 tsp chili flakes chipotle/ancho/or regular
1 jalapeno deseeded and finely diced
250ml vegetable stock
½ tsp sea salt
Freshly ground black pepper
250g grated mozzarella
Avocado Crema
2 ripe avocados
1 tbs chopped coriander leaves
Juice ½ lime
1 tsp olive oil
Salt and pepper to taste
To Serve
4 -6 BFree multigrain wraps
Avocado crema
Lime wedges
Sour cream
Method
1
In a small non-stick pan add the oil and garlic cook on medium for a minute or two and add the chilli flakes, cumin and paprika, stir to combine and cook for a further minute.
2
Add the mince and cook for a few minutes to combine. It will start to dry and stick a little to the pan. Add ¼ of the stock allow to bubble and deglaze whilst stirring until it evaporates, add more stock and repeat until you have no stock remaining.
3
Finally stir in the fresh diced jalapeno and cook for another minute. Remove from the heat and set aside.
4
To make the avocado crema, add everything to a small bowl or food processor and blitz until smooth. Check for seasoning. You can use a stick blender also.
5
In a dry pan add 1 tortilla wrap, sprinkle cheese on one half top with mince and another layer of cheese, fold over and cook on medium until the bottom is crisp and the cheese if melting. Flip and cook on the side for a few minutes.
6
Remove and cut into 3 wedges, repeat with the remain tortilla.
Serve with sour cream, avocado crema, and lime wedges.