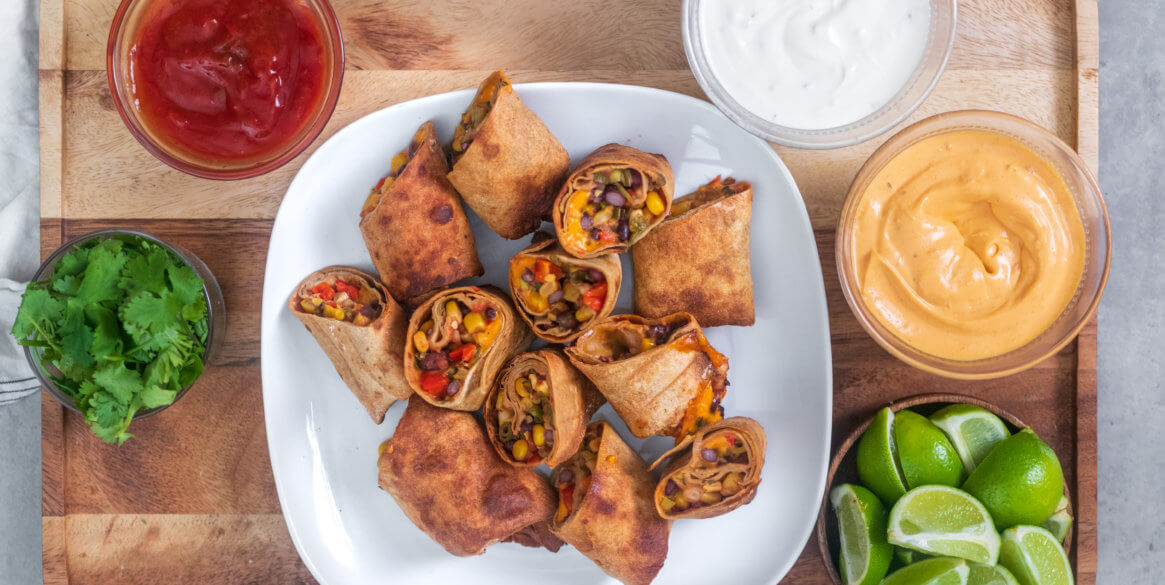 Ingredients
Gluten Free

Dairy Free

Vegan Friendly
For the filling
1 tin black beans, drained and rinsed
1 tin Corn, drained
1 red bell pepper finely chopped
2 spring/green onion finely sliced
Handful coriander/cilantro (coarsely chopped)
1/4 cup salsa For the Rolls
For the rolls
Your favourite non-dairy cheese
BFree Sweet Potato Wraps
1 tsp corn starch mixed with 1 tbsp to make a paste
Cooking spray
The perfect vegan spring rolls for dipping, crunching and devouring!
Method
1
Preheat your airfryer or traditional oven to 175.
2
Combine all the ingredients for the filling in a bowl. Check for seasoning and spice, you might want to add salt, chili or lime to your personal preference.
3
To assemble place a BFree Wrap on your work surface. Place a small about of cheese at the bottom of the wrap. Spoon some of the filling on top of the cheese.  Roll the wrap onto itself and fold the sides in like an envelope.  Continue to roll to the end.  Take a little of the prepared cornstarch and use it to seal the edge.
4
Finish filling all the spring rolls. If you have left over filling it makes for a great salsa! Place the spring rolls seal side down on a tray in your pre-heated air fryer. Spray with a couple of pumps of cooking spray and air fry at 175 for about 10-15 minutes (20-25 minutes in an oven) until crisp.
5
Serve with your favourite dips and enjoy!