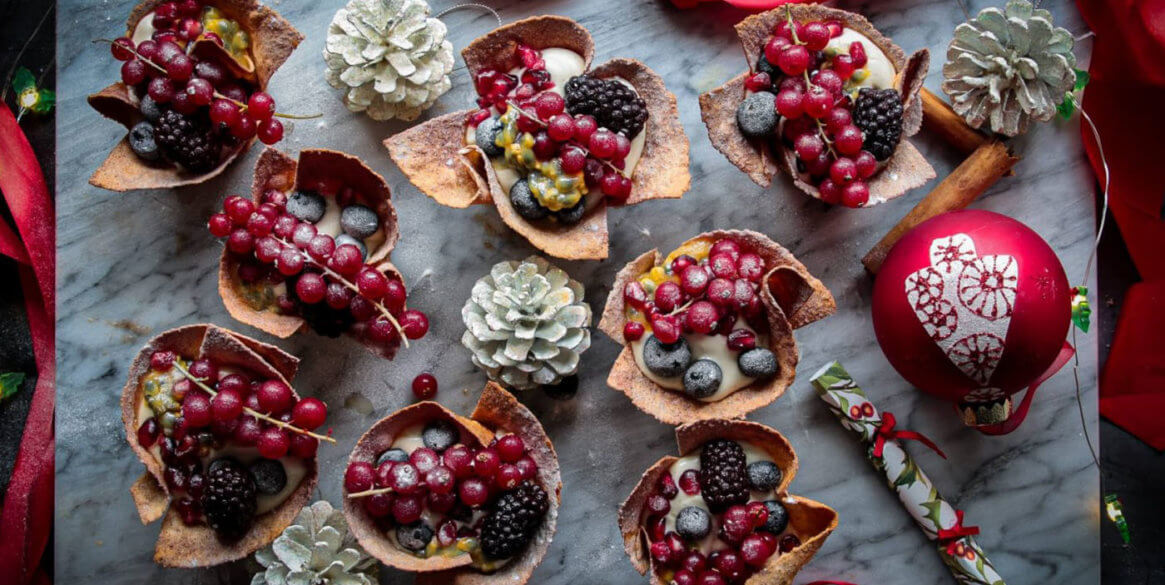 Ingredients
Gluten Free

Dairy Free

Vegan Friendly
Makes 8 Cups
1 packet BFree Wraps (Choose your favorite Flavour)
¼ cup caster sugar
1 1/2 tsp ground cinnamon
2 tbs melted plant-based butter
400g vegan cream cheese I like Nush Foods
½ cup vanilla soy yoghurt or alternative
¼ cup maple syrup
1 tbs vanilla bean paste
Approx. 300g mixed berries
2-3 passion fruit (optional)
125g redcurrants (optional)
Sparkly icing sugar or regular
Bring the family together this Christmas with this healthy twist on our super delicious Cheesecake Cups using our BFree wraps. Gluten-free, Dairy-free and vegan, it's one that will be sure to please everyone at the table.
Method
1
Pre heat the oven to 180°C
2
Melt the butter in a small saucepan or in the microwave, set aside.
3
Combine the caster sugar and cinnamon in a small bowl and set aside.
4
Brush both sides of the wraps with butter and sprinkle evenly with the cinnamon sugar and pile them on top of each other.
5
Cut the wraps into quarters.
6
Take two quarters of the wraps and overlap the pointy ends, push into the muffin holes to for a cup. Repeat until all done.
7
Place in the preheated oven for about 10 minutes until golden and crisped up. Try not to let them catch or burn.
8
While they are in the oven whisk together the cream cheese, yogurt, maple syrup and vanilla bean paste together until smooth. Place in the fridge until needed.
9
When the cups are cooked remove from the oven and allow to cool completely in the tin.
10
Just before you want to serve them, remove the cups from the tray and place on a serving dish or individual plates. Fill with the cream cheese mix, and top with a mix of berries and passionfruit if using. Finally dust with icing sugar and serve immediately.