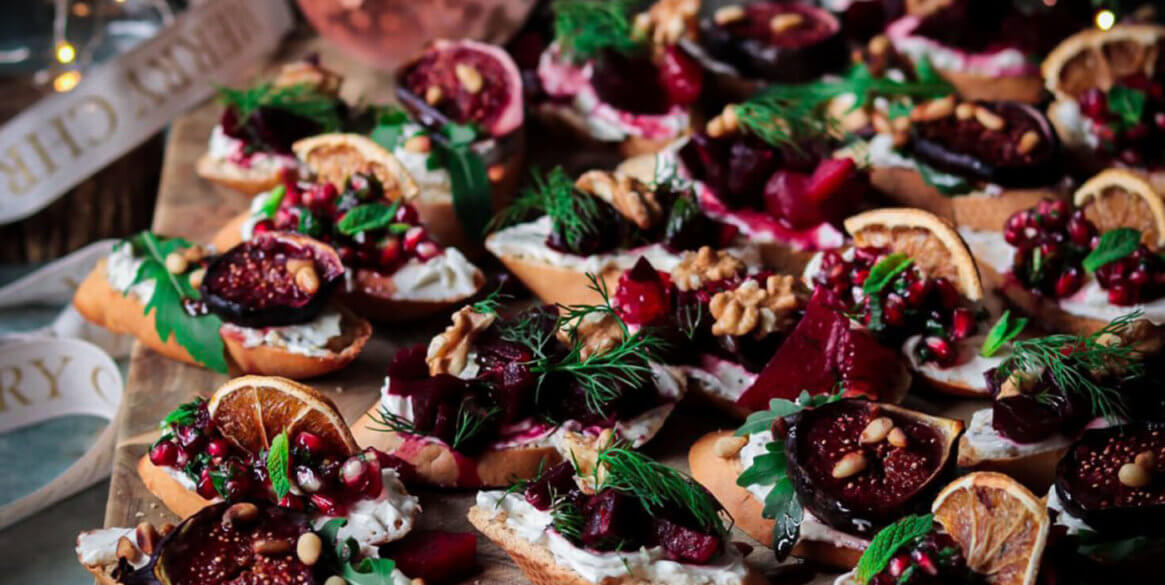 Ingredients
Gluten Free

Dairy Free

Vegan Friendly
For the burger
200g wheat floor
1 tbsp vegetable oil
2 tsp sugar
3 cups water
Method
1
Pre heat the oven to 180°C.
2
Place the sliced figs on a lined baking tray and drizzle with oil and maple syrup, season with salt and pepper. Roast for about 20minutes until jammy.
3
In two bowls divide the cream cheese, 200g in one bowl and 100g in another. In the 200g bowl add the mustard and season. In the other bowl just season. Set aside.
4
In a bowl add everything for the pomegranate topping except the orange slices if using and extra mint leaves. Stir to combine and taste for seasoning. Set aside.
5
In a bowl combine all the beetroot ingredients except the walnuts and extra dill, stir to combine and set aside.
6
When the figs are ready remove from the oven.
7
Slice the baguettes into 24 slices and place on a lined baking tray, bake in the oven for a few minutes, turn the slices over and cook for a further minute or two.
8
When you're ready to serve, top 16 slices with the mustard cream cheese and 8 with the plain.
9
Top 8 with some rocket leaves, a slice of baked fig and some toasted pine nuts.
10
Top 8 with the pomegranate mix, finish with a ¼ piece of dried orange and some mint leaves.
11
Top the final 8 with the beetroot and top with the walnuts and dill.