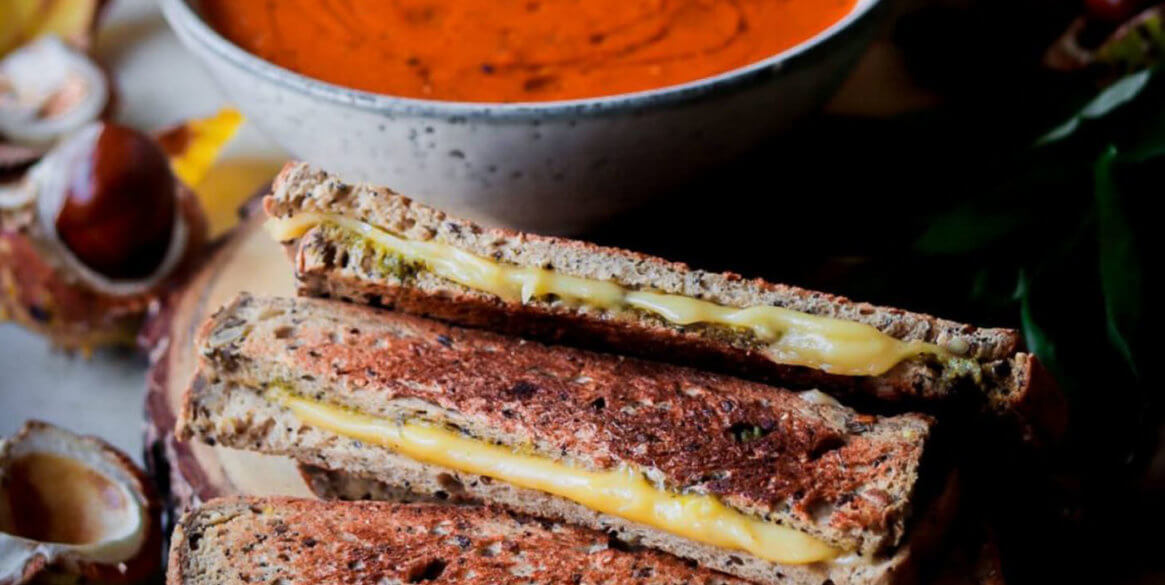 Ingredients
Gluten Free
Soup
1.5kg mixed vine tomatoes halved
1 whole head of garlic
800ml good vegetable stock
Bunch of fresh basil
Salt and pepper
Extra virgin olive oil
Toasties
8 slices of BFree Brown Seeded Loaf
8 cheese slices (use any cheese of your choice)
4 tbs good quality shop-bought pesto, or homemade
Method
1
Pre heat the oven to 160°C
2
In a large baking tray add the tomatoes cut side up, break up the garlic clove and keep the skin on bash it cloves with a knife and add them to the pan.
3
Drizzle with a little extra virgin olive oil and sprinkle on some salt and pepper. Place in the preheated oven for 40 minutes, or until the tomatoes are soft and lightly caramelized.
4
When the tomatoes are ready, remove from the oven and pick out all the garlic cloves, remove the garlic from the skins and this to a large pan. Discard the skin.
5
Empty in all the tomatoes and any juices released during cooking, into the pan.
6
Give everything a little stir around and add the vegetable stock. Bring to a boil and then reduce to a simmer. Add a small handful of basil leaves and stir to combine.
7
Using a stick blender or a high spend blender, blitz the soup to your desired consistency, I like mine fairly smooth. Taste for seasoning and add accordingly.
8
Keep on allow heat whilst you make the toasties. Spread 4 slices of bread with 1 tbs of pesto on each, top with your cheese of choice and another slice of bread. Toast in a pan either side until the cheese has melted or using a sandwich toasting machine.
9
When you are ready to serve, add the soup to bowls and top with a few fresh basil leaves and a drizzle of olive oil. With toasties cut into dippers on the side.