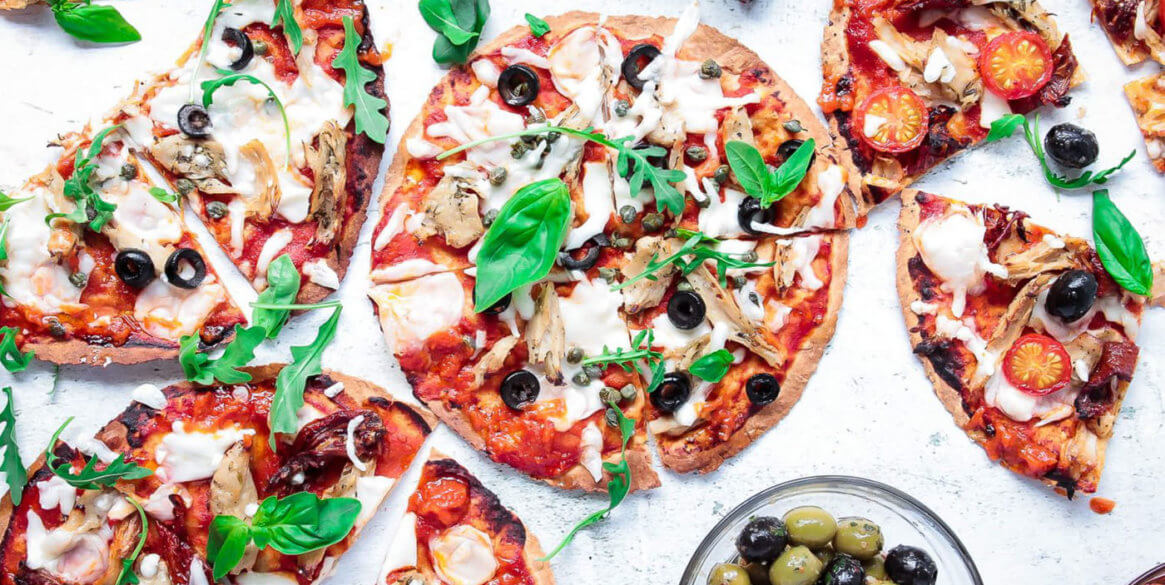 Ingredients
Gluten Free

Dairy Free

Vegan Friendly
Tomato Sauce
1 onion diced
4 garlic cloves crushed
2 tinned chopped tomatoes
Salt and pepper
2 tbsp. EVOO
2 tsp Tomato ketchup
1 packet of BFree Multigrain Wraps
Toppings
½ cup sundried tomatoes
½ black olives
¼ cup capers
Small handful fresh basil leaves
Handful of rocket
Vegan mozzarella about 1-1/2 cupful's
1 packet of Oumph! Thyme and garlic
Method
1
Start by making the tomato sauce, Sautee the onions until caramelized and lightly golden, add the garlic and continue to cook for a minute or two.
2
Add the chopped tomatoes, ketchup, salt and pepper to season. Bring to a boil and reduce to a low simmer for 10-15minutes.
3
Check for seasoning and using a hand held stick blender, give it a little blast to make a smoother sauce. Don't overdo it we aren't looking for a soup. Return to a very low heat, and stir in the EVOO, leave until you're ready to serve.
4
Pre heat the oven to 180°C
5
In a large frying pan and a 2 tbsp. light oil and cook the Oumph! For about 5-10minutes, until defrosted and lightly golden on the outside. (Or per packets instructions).
6
Prepare all the toppings you wish to use, either from the list above or your own selection.
7
Place 2-4 BFree wraps in the oven directly on shelf for about 3-5 minutes to dry out a little and firm up.
8
When you're ready remove them from the oven and spread each one with a thin layer of the tomato sauce, vegan mozzarella, the Oumph! And whichever other toppings you have chosen.
9
Place back into the oven until the cheese has melted and tortilla base crisped up.
10
Finish with some fresh rocket and basil leaves.