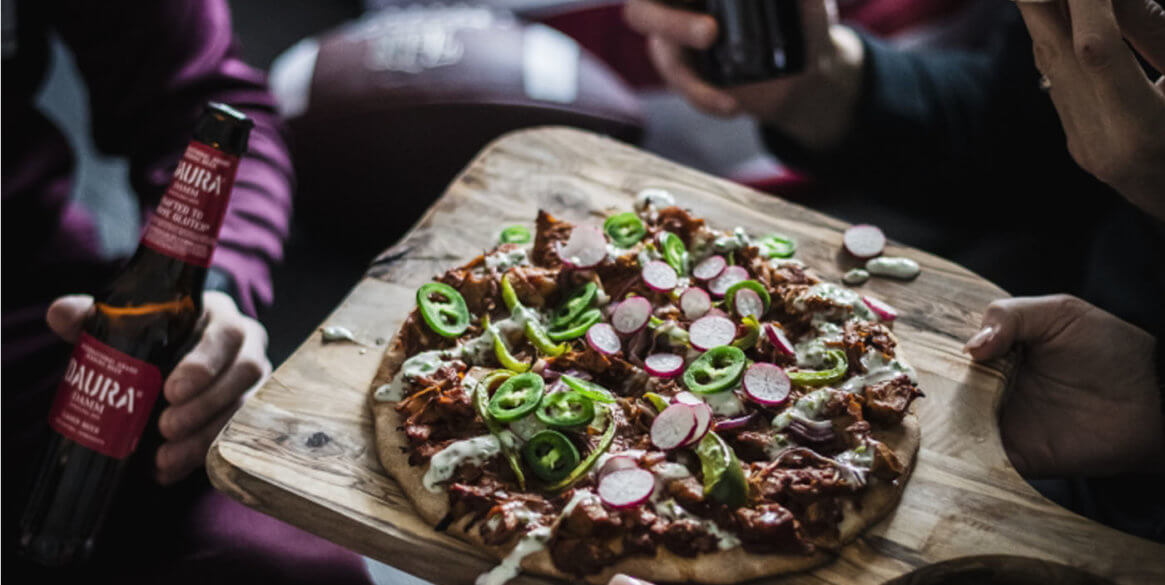 Ingredients
Gluten Free

Dairy Free

Vegan Friendly
Jackfruit
2 x 400g tins of Jackfruit pieces
1 onion finely diced
2 large garlic cloves finely grated
2 tbs tomato puree
1 tin chopped tomato
2tsp smoked paprika
2tsp ground cumin
1/8-1/4 tsp cayenne pepper
2 tsp liquid smoke (optional)
½ cup good quality Bottled BBQ sauce
1 tbs tamari soy
1 tbs tomato ketchup
1 tsp salt
Good grind of fresh black pepper
1 tbs light oil
Creamy, Garlic and Chive Sauce
¼ cup vegan crème fraiche or yogurt
¼ cup vegan mayonnaise
Juice ½ lemon
1 small garlic clove finely grated
2 tbs finely chopped chives
1 tsp olive oil
Salt and pepper to taste
To Serve
Sliced Green pepper
Sliced Red Onions
Kale
Sliced Jalapeno
Sliced Radishes
Sliced Red Onion
Call your friends over and get ready for the Big Game this Sunday with our deliciously healthy BBQ Pulled Jackfruit Pizza!
Method
1
In a saucepan add the onions and oil and cook until soft sweet and translucent, add the garlic and cook for a further minute.
2
Add in the cumin, cayenne pepper, paprika, tomato puree, liquid smoke, tamari, ketchup and cook for a further minute.
3
Add the drain jackfruit and stir to combine, breaking down the jackfruit pieces as you go. Once everything is well combined, add the chopped tomatoes and BBQ sauce. Stir to combine.
4
Cook for about 20-30minutes, until reduced and thicken up a little. Taste for seasoning and add about 1 tsp salt and a very good grind of fresh black pepper.
5
Pre heat the oven to 180°C fan.
6
Whilst the jackfruit is cooking down, add all the ingredients for Garlic and chive sauce to a small bowl and stir to combine. Add water 1 tbs at a time until you have the consistency of double cream. Taste for seasoning.
7
When the jackfruit is ready, divine between the pizza bases, top with sliced red onion, green peppers or kale.
8
Bake directly on the oven shelf for about 15-320 minutes.
9
Serve with the creamy garlic sauce drizzled on top and sliced radish and jalapenos.