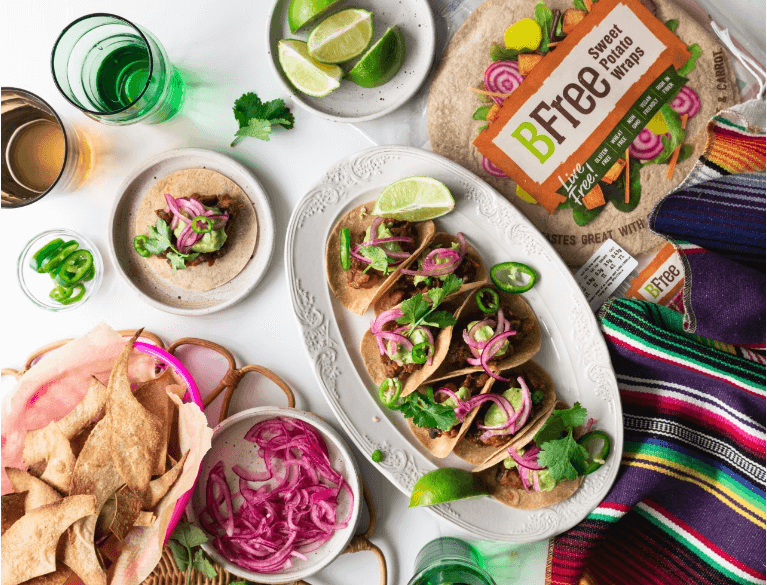 Ingredients
Gluten Free

Dairy Free

Vegan Friendly
1 packet BFree sweet potato wraps
Refried Beans
3 tins of beans of choice, pinto, black, kidney, borlotti, cannellini. Drained and rinsed.
1 onion diced
3 garlic cloves grated or crushed
2 bay leaves
2 tbs light oil
2 heaped tbs smoked paprikas
1 heaped tbs ground cumin
½ tsp chipotle chilli flakes or regular
200ml / 6.5 fl oz vegetable stock
Avocado crema
3 ripe avocados
Finely chopped coriander stalks from a small bunch
1 sliced spring onion
¼-1/2 jalapeno finely chopped
½ tsp sea salt
Freshly ground black pepper
1 tsp olive oil
Juice 2 limes
Pink Pickled Onions
1 red onion thinly sliced
½ tsp sea salt
½ tsp caster sugar
Juice one lemon
To Serve
Coriander leaves
Lime wedges
Sliced jalapenos
Method
1
First make the pink pickled onions, add all the ingredient to a small bowl and scrunch together with your hands, set aside.
2
In a large deep side pan add the diced onion, garlic cloves, bay leaves, chilli flakes and light oil. Heat gentle until soft and caramelised.
3
Add in the smoked paprika and cumin, cook for another minute or two until fragrant.
4
Add in the beans and stir to combine, cook on a medium heat for about 5 minutes stirring often.
5
Add the peeled and stoned avocado to a bowl along with the remaining ingredients and using a food processor or stick blender blitz until smooth and creamy, taste for seasoning cover and set aside.
6
When the beans are beginning to cook down a little and sticking to the bottom of the pan add the vegetable stock and allow to bubble a deglaze, continue to cook for a few more minute until thickened, check for seasoning and add a good amount of salt and freshly ground black pepper to taste.
7
Cover and keep warm on a low heat.
8
Take the tortillas and using a small ramekin or bowl cut each one or 2-3 at a time into small rounds.
9
Do not through the off cuts out, cut them into large pieces rum a little light oil on them and bake in the oven or air fryer for 10 minutes until crisp. Use these to snack on left over refried beans and avocado crema.
10
Warm the tortilla rounds per packet instructions, when ready to serve place everything in the centre of the table and allow everyone to tuck in.
11
Spoon refried beans, avocado crema into tacos, top with pink pickled onions, sliced jalapenos and coriander leaves.