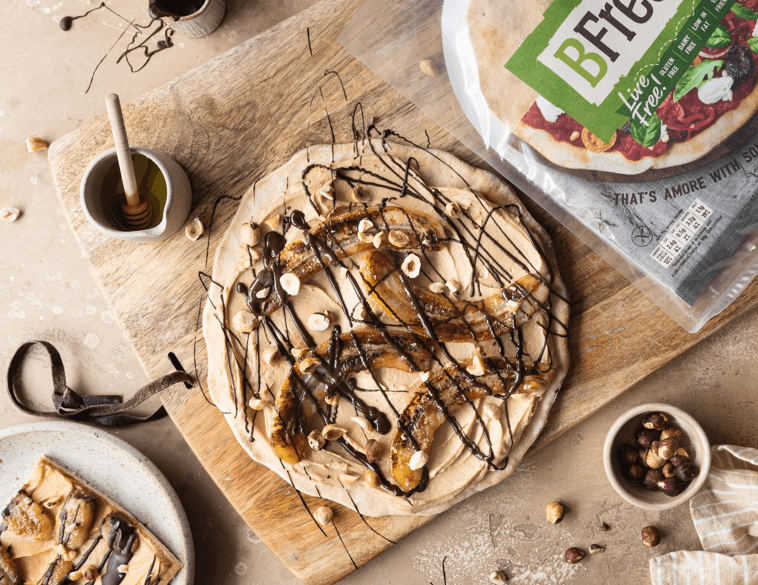 Ingredients
Gluten Free

Dairy Free

Vegan Friendly
1 BFree pizza base
½ cup / 8 tbsp smooth peanut butter
50g / 2 oz dark chocolate
2 firm but ripe bananas
38g / ¼ cup hazelnuts
4 tbs maple syrup
1 tbs light oil
½ tsp sea salt
Serves 2-4 as snack or dessert
Method
1
Pre heat the oven to 180°C fan.
2
Place the hazelnuts on a lined baking tray.
3
When the oven is hot add the pizza base direct to the oven shelf and add the hazelnuts to the shelf below. Cook for 10 minutes.
4
Add the peanut butter to a bowl and whip a little with a whisk.
5
Peel the bananas and cut in half length ways or slice.
6
Bring a small pan with a little water into a simmer and place a metal bowl on top, add the chocolate and gentle melt.
7
In a medium frying pan, add 1 tbs light oil and heat to medium high. When the pan is hot add the bananas and cook for a minute or two, drizzle over 2 tbs of maple and allow to bubble a little, sprinkle on the salt and cook for a little longer until the bananas have caramelised then flip over and cook for another minute or two. Remove from the heat and set aside.
8
When the pizza has warmed and crisped up and the hazelnuts toasted, remove from the oven. Lightly crush the hazelnuts with the side of a knife.
9
Spread the pizza base with the peanut butter, top with the caramelised bananas, drizzle with chocolate, sprinkle toasted hazelnuts, finish with a drizzle of maple syrup. Serve immediately.