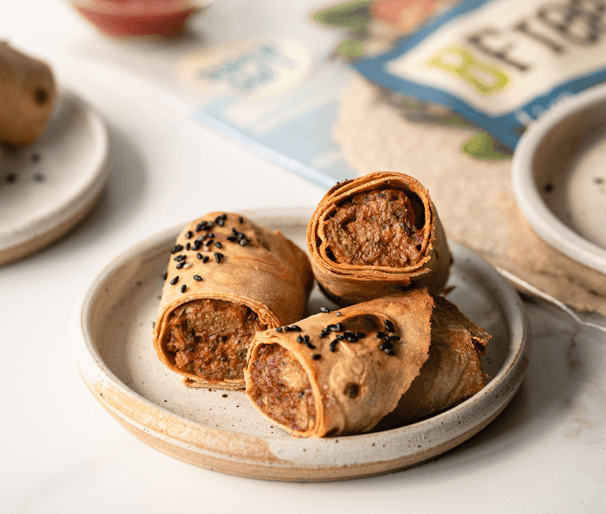 Ingredients
Gluten Free

Dairy Free

Vegan Friendly
3 BFree Tortilla Wraps
6 vegan sausages of choice
3 heaped tbs sundried tomato paste
2 tbs light oil
1 tbs sesame seeds
Method
1
Pre-heat the oven to 160°C Fan and line a baking tray with parchment.
2
Remove sausages from their skins if they have any, and place into a a bowl with the sundried tomato paste. Mash together with a fork and set aside.
3
Take 3 wraps and divide the sausage mix between them in a long sausage shape, just off centre.
4
Using a brush or your fingers run a little oil over the outer edge to help seal the sausage rolls.
5
Roll them up tightly and cut off and little end bits. Cut each one in half and then half again so you have 4 sausage rolls per wrap.
6
Place them on the lined baking tray and brush with the remaining oil and sprinkle with sesame seeds.
7
Place in the preheated oven for 15 minutes or until the sausages are cooked and tortilla crisp.
8
Remove from the oven and allow to cool a little before eating, they are delicious dipped in ketchup or hot mustard.