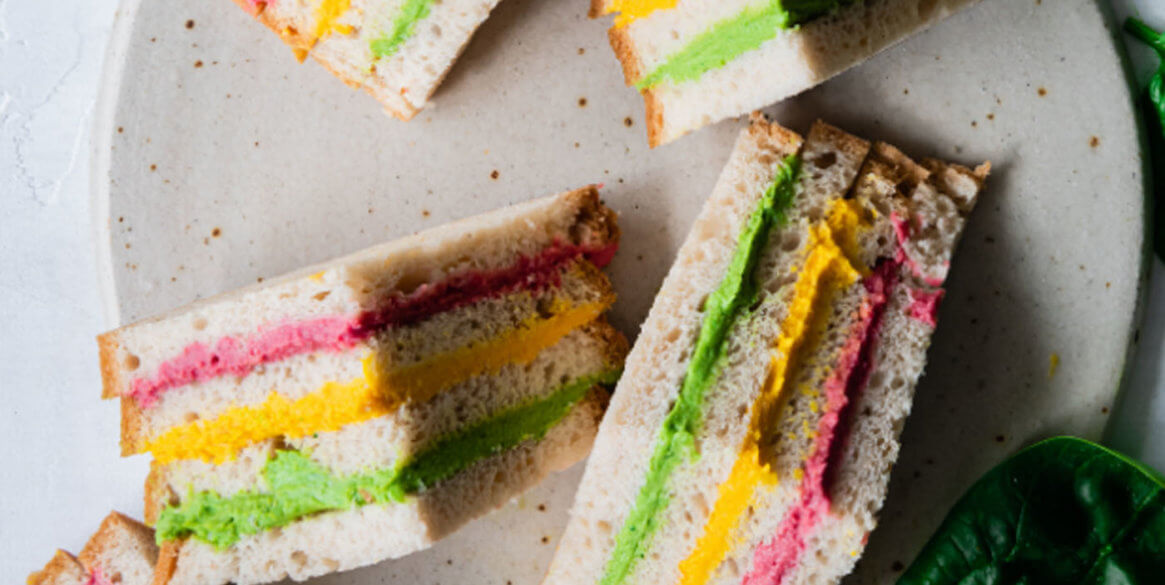 Ingredients
Gluten Free

Dairy Free

Vegan Friendly
1-2 packs of our Sliced White Loaf
Beetroot Hummus
200g chickpeas
2 medium cooked beetroot
1 heaped tbs tahini paste
1 tbs olive oil
Slice of garlic
Good squeeze lemon juice
Salt and pepper to taste
Carrot and Turmeric Hummus
200g chickpeas
1 medium carrot cooked
1 heaped tbs tahini paste
1 tbs olive oil
Slice of garlic
¼ tsp turmeric
Good squeeze lemon juice
Salt and pepper to taste
Spinach Hummus
200g chickpeas
1 handful spinach leaves
1 heaped tbs tahini paste
1 tbs olive oil
Slice of
garlic
Good squeeze lemon juice
Salt and pepper to taste
Method
1
In 3 separate bowls combine the ingredients for each hummus flavour and blend together until smooth with a stick blender or in your food processor. Cleaning after each flavour.
2
Spread one slice of bread with the beetroot hummus, top with another slice of bread and spread with the carrot hummus, add another slice and spread with the spinach, finally add the last slice.
3
Cut into triangles and serve.