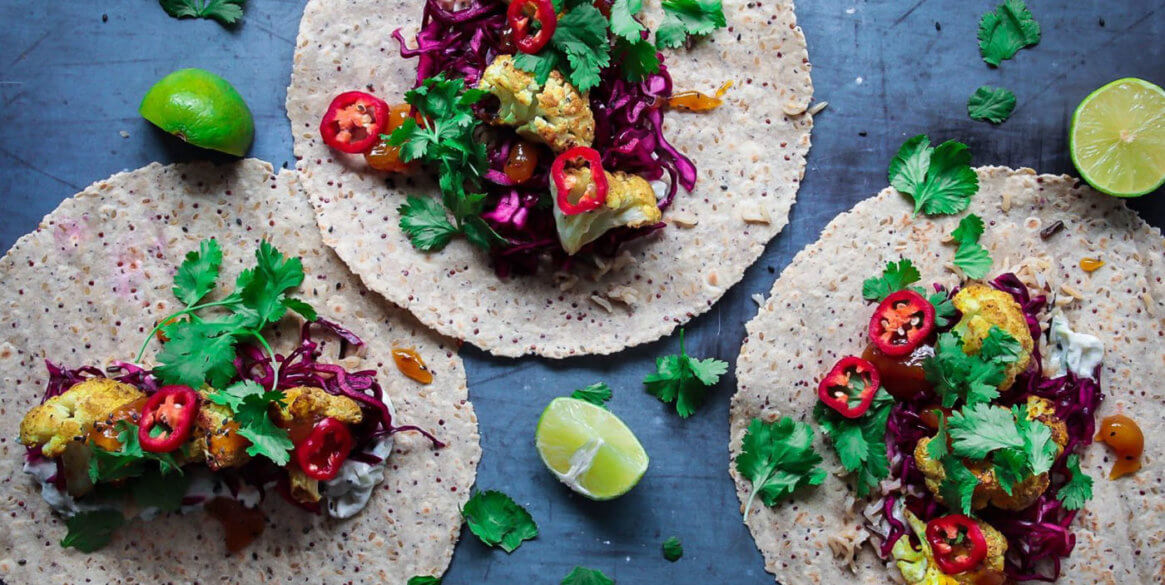 Ingredients
Gluten Free

Dairy Free

Vegan Friendly
Roasted Cauliflower
450g cauliflower florets
2 tbs light oil
¼ tsp turmeric
¼ tsp cayenne pepper
1 tsp garam masala
1 tsp salt
Good grind of black pepper
Quick Pickled Red Cabbage
100g red cabbage shredded
Juice ½ lemon
1 tsp salt
Raita
100g grated cucumber
1 tsp lemon juice
¼ tsp ground cumin
¼ garlic clove minced
¼ tsp salt
¼ tsp nigella seeds
2 spring onion sliced
Approx. 8-10 mint leaves finely sliced
75g coconut yoghurt or alternative plain yoghurt
A good grind of black pepper
To Serve
250g cooked brown rice (I used microwave packet of brown basmati and wild)
1 packet BFree Quinoa and Chia Seed Wraps
A handful of fresh coriander leaves
Mango Chutney
Lime wedges
There is nothing a good burrito can't solve! We love this delicious Indian inspired burrito created by Natalie Naturally. It's perfect to spice up any evening of the week.
Method
1
Pre heat the oven to 180°C
2
In a small bowl add all the ingredients for the red cabbage, stir to combine and set aside.
3
In a baking tray add all the cauliflower ingredients and stir to combine. Place in the pre heated oven for about 20-30minutes turning the cauliflower halfway.
Its ready when the cauliflower is charred on the edges and a knife will slide through the florets with relative ease. Do not over cook as you want a little bite.
4
In a bowl combine all the raita ingredients and stir to combine. Check for seasoning.
5
Cook the rice and set aside.
6
When you're ready to serve cook the wraps per packet instructions.
7
Spread some riata, a few spoonful's or rice, red cabbage, pieces of cauliflower, dollops of mango chutney and extra coriander leaves and chilli slices.
8
Fold two ends in and roll up.
9
You can place them in a hot pan to cook further or wrap in foil. Alternatively, just eat immediately.