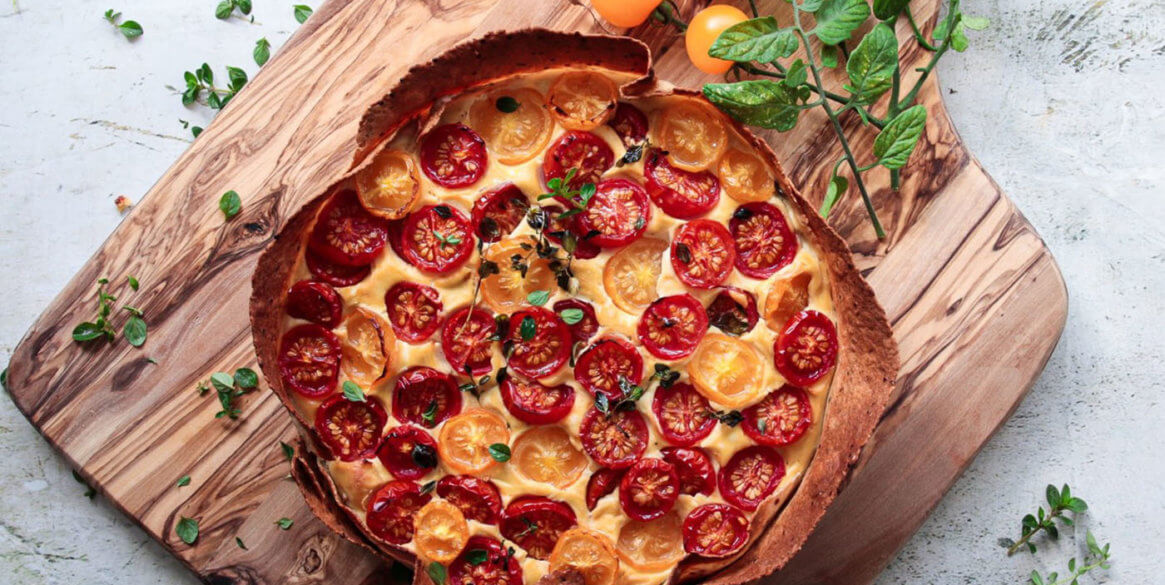 Ingredients
Gluten Free

Dairy Free

Vegan Friendly
Tart Crust
4 BFree Quinoa and Chia Tortillas
1 tbs light oil
Filling
280g block firm tofu
½ cup plus 4 tbs oat milk or alternative
1 tbsp gram flour
½ tsp black salt/ Kala Namak (optional)
¼ tsp turmeric
1 tbs nutritional yeast
1 tsp salt
Good grind black pepper
250g halved cherry tomatoes
2 tsp. thyme leaves
Perfect to make on the weekends and to indulge in during the week! This tart is not only super healthy and gluten-free, but it's also easy to make and ready in just 30 minutes.
Method
1
Pre Heat the oven to 180°c
2
Take a 20cm spring bottom cake tin and lihglty brush with oil.
3
Place one tortilla in the base, brush lightly with oil. Cut two tortillas in half and place around the edge, overlapping the base and up the sides brush lightly with oil. Place the final tortilla on top.
4
In a high-speed blender add all the ingredients for the filling except the tomatoes and thyme. Blitz until smooth and silky.
5
Pour the filling into the tart case and smooth the top, place all the tomatoes on top, pushing them into the tart slightly. It's ok if some are fully submerged. Sprinkle with 1 tsp of thyme leaves and drizzle with a little olive oil.
6
Place in the re-heated oven for 30 minutes or until the tart has puffed up a little and the tomatoes are beginning to char.
7
If the tortilla crust is starting to catch or burn place some foil over the edges.
8
When the tart is ready, remove from the oven and allow to rest for a few minutes before prinking with remaining thyme leaves and serving with a green salad.