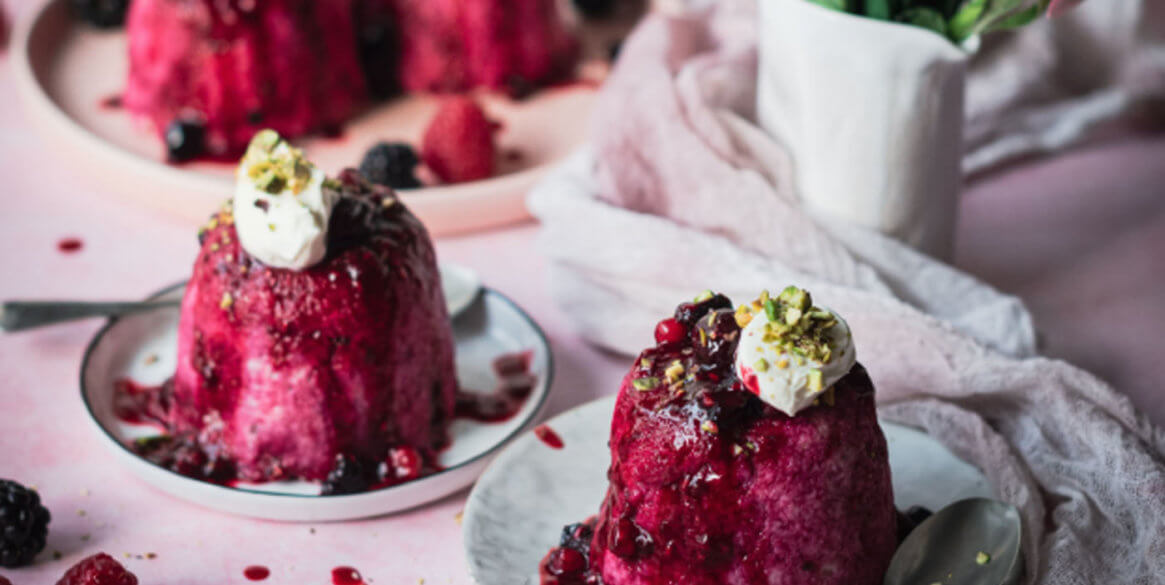 Ingredients
Gluten Free

Dairy Free

Vegan Friendly
8 Slices BFree Sliced White Loaf
200g frozen mixed berries
100g frozen cherries or extra berries
3 tbs caster sugar
2-star anise
1 cinnamon stick
½ Vanilla pod split
To Serve
Creme fraiche or pouring cream (plant based)
2 tbs pistachio nuts roughly chopped
Steal your secret admirers heart with this easy and delicious fruity, vegan Valentines Day dessert ♡
Method
1
Scrap the seeds from the vanilla and add to a small pad with the pod, berries, the remaining spices, sugar and 2 tbs water. Gentle bring to a boil, reduce to a simmer and stir occasionally for a about 3-5 minutes. You want to keep the berries whole where possible, but the juices to be released, some will naturally soften. Remove from the heat and set aside while you prepare the tins.
2
Line 2 mini 200ml pudding tins with cling film.
3
*Cut the crusts from the bread slices and cut each slice in half so you have wide soldiers
4
Line the pudding tins with the bread slices, overlapping slightly, cut any slices as needed to fill in gaps and cover the bottom. You should need approx. 3 slices for the sides and 1 slice cut for the bottom and top.
5
Once the berries have cooled, remove the star anise cinnamon and vanilla pod.
6
Divide the berries between the puddings, leaving a 1cm gap at the top. You should still have some berries and juice remaining for dressing the puddings on serving.
7
Fold any bread slices inwards and finish with a square of bread to cover the tops, so no berries are showing.
8
Cover the puddings with cling film and place in the fridge with a weight on top to compact the pudding down. We used jars of jam or other condiments we happen to have in our fridge.
9
Put the remaining berries and syrup into a small container in the fridge until you're ready to serve.
10
Leave for a minimum of 4 hours or ideally overnight.
When you are ready to serve, remove the cling film from the base and turn out onto a small serving plate. Peel the cling film away.
11
If there is still white bread showing in places, use some of the remaining syrup to brush on the outside.
12
Spoon any extra juice and berries on top of the puddings, add a good dollop of creme fraiche and some chopped pistachio nuts to finish.
keep the remaining crust for breadcrumbs, wizz in a food processor to form crumbs and place in a freezer bag. Freeze for later use. DO NOT DISCARD.
13
This recipe can easily be multiplied up to serve more or make one large pudding.