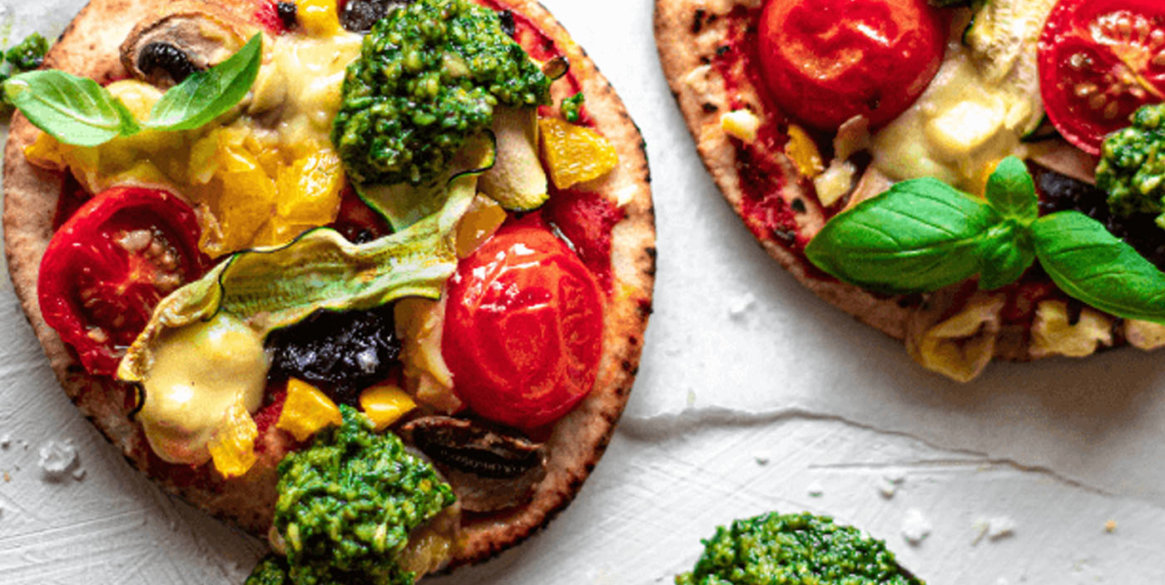 Caramelised Onions
1 red onion, sliced
Dash of olive oil
1 tsp coconut sugar
Dash of balsamic vinegar
Sneaky Pesto
1/4 cup pine nuts, roasted or sautéed
3 cloves garlic, raw or sautéed
1 cup baby spinach, loosely packed
1 cup basil leaves, loosely packed
3 tbs olive oil
Generous pinch of salt
Pita Pizza
6 BFree Foods Pita Pockets
3 tbs tomato pizza sauce
1 small capsicum, diced
1/2 cup mushrooms, sliced
1/2 cup cherry tomatoes, halved
1/2 cup vegan cheese, chopped or shredded
Veggie-loaded Pita Pizzas with caramelised onions and a sneaky pesto! This delicious recipe was created by @Rainbownourishments 👩‍🍳
Method
1
To make the onions: Add the onion and olive oil to a medium-size saucepan over high heat and sauté until fragrant. Turn down the heat to low-medium. Add the coconut sugar and a dash of water. Sauté for 10 minutes or until the onions are very soft. Add the balsamic vinegar to de-glaze the pan and allow the liquids to evaporate. Set aside.
2
Preheat the oven to 180°C (355°F).
3
To make the pesto: Add all ingredients to a food processor and process until it forms a paste. Set aside.
4
Place the Pita Pockets on a lined baking tray. Spread the pizza sauce on each pita leaving a 1cm edge. Scatter the capsicum, mushrooms, tomatoes, vegan cheese and caramelised onions on top.
5
Bake the pita pockets in the oven for 10-12 minutes or until the vegetables are cooked.
6
Dollop the pesto on the baked pita pizzas. Enjoy immediately!