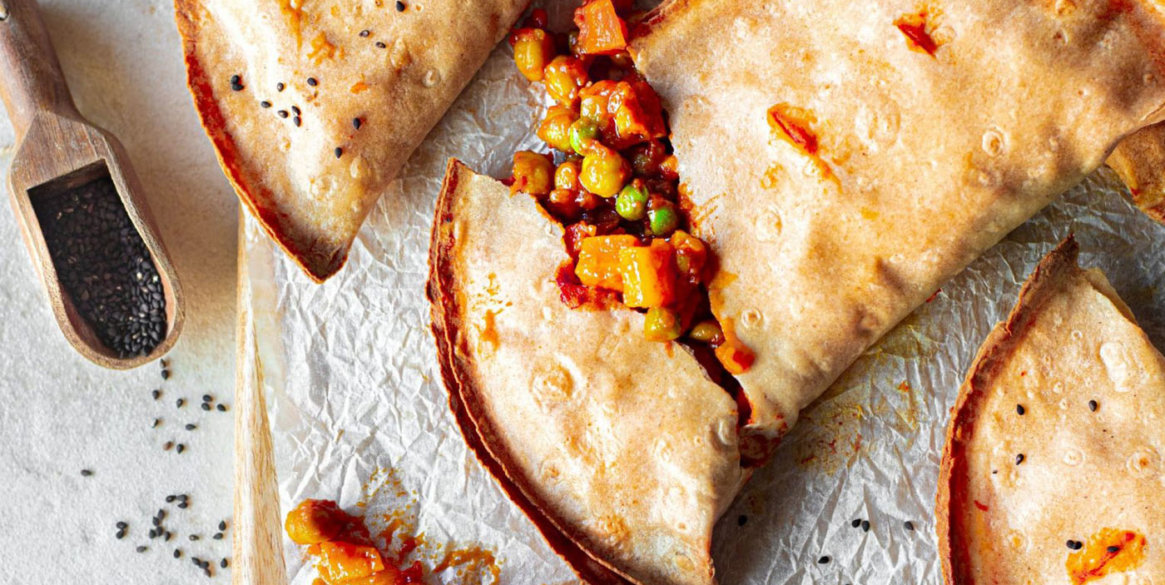 Ingredients
Gluten Free

Dairy Free

Vegan Friendly
6 BFree Multigrain Wraps (1 packet)
Olive Oil, as needed
1 medium-sized brown onion, chopped in small cubes
3 cloves garlic, peeled and chopped finely
2 medium-size white potatoes, peeled and chopped in small cubes
2 medium-size carrots, peeled and chopped in small cubes
1 tsp smoked paprika
1 tsp ground coriander
1 tsp ground cumin
1/2 tsp ground turmeric
1 x 400g can chopped tomatoes
1 x 400g can chickpeas, liquid reserved (equivalent to 1 heaped cup or ~250g cooked chickpeas)
1/4 cup (35g) garden peas
vegetable stock or water, as needed
salt and pepper, to taste
Imagine an easy one-pot Moroccan stew with a hearty tomato sauce, loads of vegetables and a touch of spice. Place that in one of our crispy Multigrain Wraps, bake it and you've got a meal for days! Recipe created by @Rainbownourishments, go follow her for some delicious recipe ideas on Instagram.
Method
1
Add olive oil to a large saucepan over medium-high heat. Add the onion and saute for 5 minutes or until softened. Add the garlic and saute for 3 minutes or until softened.
2
Add the chopped potatoes, carrots and spices to the pot. Saute to sear the potatoes and carrots.
3
Add the tomatoes and reduce the heat to medium. Fr 15-20 minutes, stir occasionally to ensure the ingredients don't stick to the bottom of the saucepan. Add some stock or water if the tomato sauce is evaporating too quickly (there should be enough liquid in saucepan so the ingredients don't stick).
4
When the potatoes and carrots are almost tender, add the chickpeas and peas. Simmer for another 10 minutes. Season with salt and pepper to taste and set aside.
5
Preheat the oven to 180 degrees C. Line 2-3 baking trays.
6
Place 1 wrap on a lined tray and spoon the filling on half the wrap, 2cm from the edge. Use a knife to score the other half of the wrap to help release steam when baking.
7
Brush the reserved chickpea liquid on the wrap's edge. Fold the wrap in half, pressing the edges together.
8
Repeat with the remaining wraps. Place 2 hand pies together so the pies form a circle.
9
Brush a bowl with olive oil and place on top of wraps. Bake the pies for 15 min. Remove the hot bowls and bake for another 5.