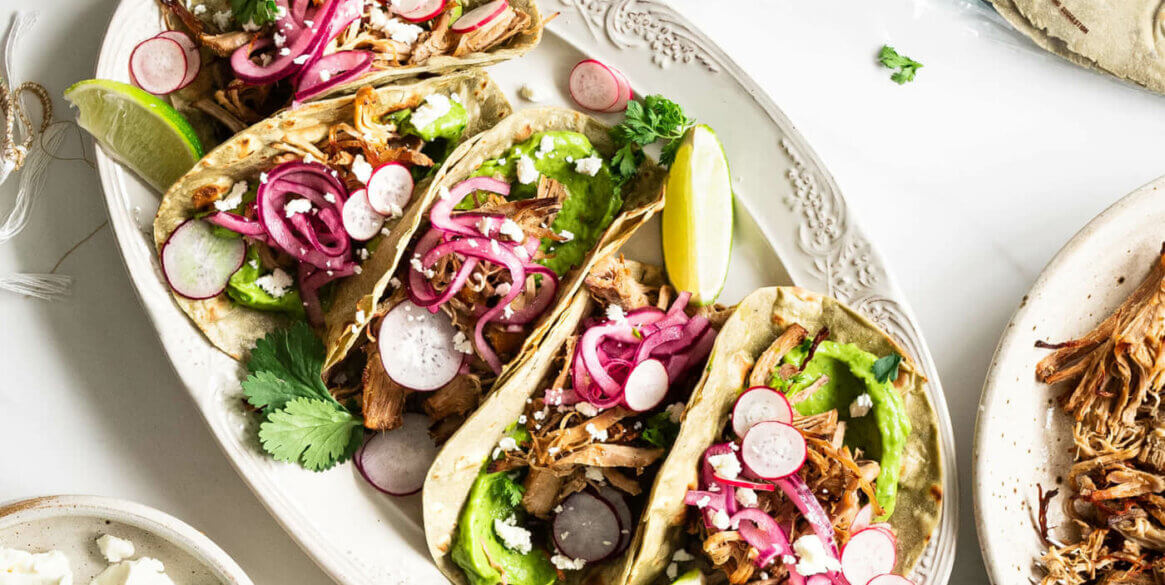 Ingredients
Gluten Free
 Serves 6-8 with left over carnitas for lunch's or salads!
1-1.2kg Pork Shoulder
1 tbs chilli flakes
1tsp chilli powder
1tbs oregano
2tbs ground cumin
2 tsp sea salt
1 tsp ground black pepper
6 strips orange zest
Juice 2 oranges
2 bay leaves
1 cinnamon stick
1 onion diced
6 garlic cloves peeled and bashed
Pink pickled onions
1-2 red onion thinly sliced
1 tsp sea salt
Juice ½-1 lemon
Avocado crema
2 ripe avocados
1 tbs chopped coriander
Juice 1 lime
1 jalapeno deseeded and roughly chopped
Good pinch sea salt
Freshly ground black pepper
To serve
BFree avocado wraps 2 packets
Lime wedges
Crumbled feta cheese
Coriander leaves
Sliced radishes
Sliced jalapenos
Sour cream
Chilli/chipotle sauce
Method
1
Trim the thick fat off the pork and cut into large chunks, place in a large casserole dish with a lid.
2
In a small bowl combine, the chilli flakes and powder, oregano, cumin, salt and pepper, stir to combine and rub into the pork.
3
Add the orange zest, cinnamon, bay leaves, onion, garlic and orange juice to the pot and add enough cold water to just cover the pork by about 1 inch.
Place on the hob and bring to a boil, skimming any scum that floats to the surface off.
4
Pre heat the oven to 140°C fan.
5
Reduce to a low simmer and cover with the lid, place in the pre heated oven for about 4 hours.
Check on the pork every hour or so to ensure its not drying out.
After 4 hours you should be able to pull the pork apart easily, if not continue to cook and check on it every 30 minutes.
6
Meanwhile add the sliced onion to a bowl with the salt and lemon juice and scrunch together to combine. Set aside.
7
Add all the ingredients for the avocado crema to another bowl and using a handheld blender whizz to a puree, cover and set aside.
8
When the pork is falling apart easily, remove from the oven and turn the oven up to 180°C fan. Line a baking tray with parchment or foil. Remove the pork from the pot and shred it into chunks on the lined tray. Add a good few spoonful's of the cooking liquid and place in the oven to crisp up for about 20 minutes turning often. You want crispy buts and soft bits. Adding a little liquid after if necessary.
9
Meanwhile prep your remaining sides and set your table
10
You can cut your wraps into small rounds reserving the trimming to bake in the oven for 5 minutes, to crunch up into tortilla chips or just serve the wraps as the come. Either way warm the wraps as per packet instruction.
11
When you are ready to serve remove the pork to a platter and you can pour a few spoonful's of the cooking liquid over the pork to keep it moist.
12
Fill the wraps with avocado crema, pork, pink pickled onions, feta, a squeeze of lime and extra coriander and jalapenos.