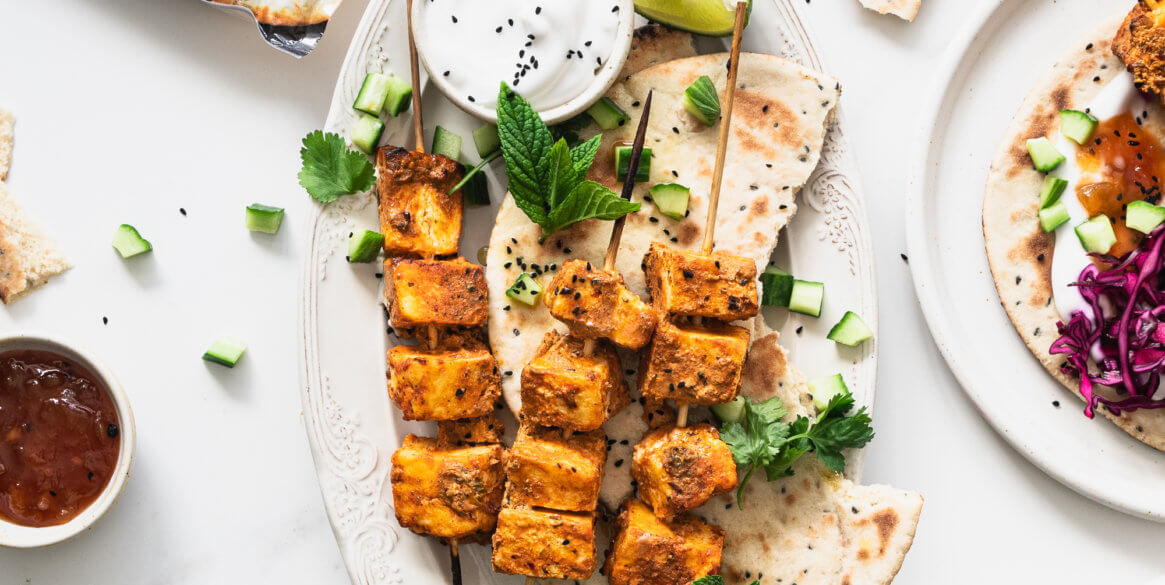 Ingredients
Gluten Free

Dairy Free

Vegan Friendly
Serves 4-6
2 x 226g packets of paneer cheese
250g Greek yogurt
2-4 tbs tandoori paste each brand varies in strength
1 tsp sea salt
½ tsp freshly ground black pepper
1 tbs light oil
Red Cabbage
¼ red cabbage finely sliced
Juice 1 lemon
½ tsp sea salt
To Serve
4-6 BFree Naan Breads
Extra Greek yogurt
Mango chutney
Fresh soft herbs, coriander, mint
Lime wedges
½ cucumber de seeded and diced
Sliced chilli (optional)
Method
1
In a medium bowl add the yogurt, tandoori spice paste, salt and pepper, stir to combine.
2
Chop the paneer into approx. 1 inch cubes and add these to the yogurt mix, stir gentle to combine and set aside.
3
Pre heat the oven to 180C fan, line a baking tray
4
Divide the Paneer onto 4-6 skewers and place on the baking tray, drizzle with the oil and place in the pre heated oven for approx 40 minutes. Turn the skewers once or twice.
5
Whilst the paneer is cooking, add the finely sliced red cabbage, lemon, and salt to a bowl and stir to combine, set aside.
6
Prep your other accompaniments; herbs, lime wedges, mango chutney, cucumber, and warm the naan as per packet instructions. Keep them warm by wrapping in foil and placing in a warm oven.
7
Serve the naan and skewers on a platter along with the serving suggestions, and tuck in!