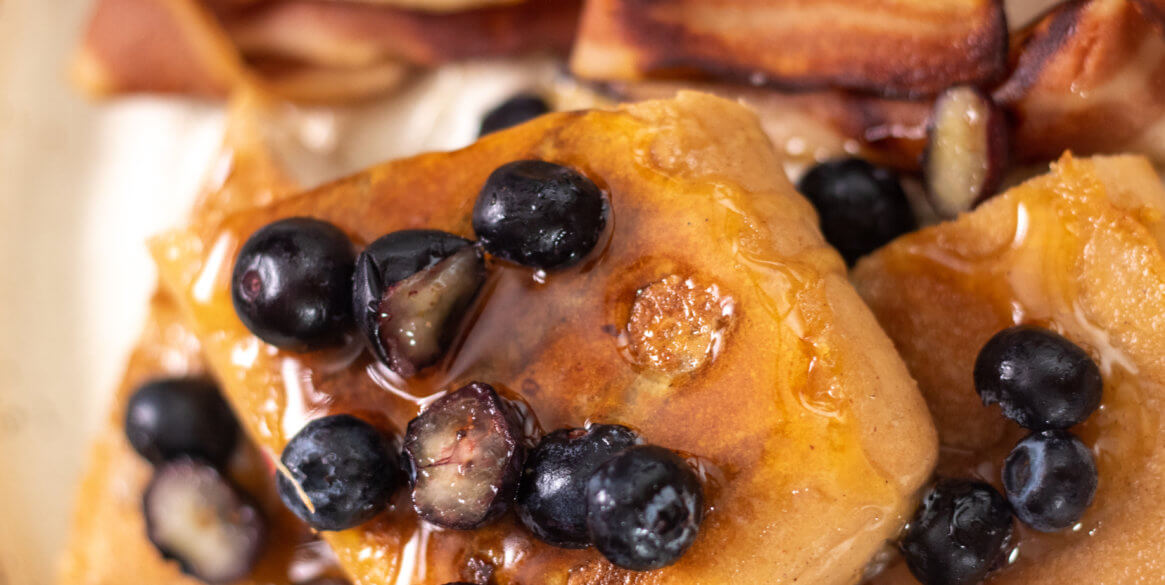 Ingredients
Gluten Free

Dairy Free

Vegan Friendly
For the Batter
3 tbsp or 1.5 oz of cornstarch
1/2 cup almond milk
2 tbsp  or 1/8 cup of golden caster sugar
1 tsp or 5ml of vanilla extract
1/2 tsp ground cinnamon
Toast
BFree Panini
1 tbsp or 1/2 oz of plant based butter
1 tbsp or 1/2 oz of caster sugar
To Serve
Maple syrup
Plant-based bacon
Blueberries
Treat yourself to a lazy Sunday morning breakfast with this vegan French Toast.
Method
1
Add the cornstarch to a shallow bowl or baking dish, then slowly add in dairy-free milk while whisking. Whisk fully.
2
Add the caster sugar, vanilla and cinnamon. Whisk again to combine.
3
Add the BFree panini to the batter and soak (As they are thick, they can soak for a bit without becoming soggy.)
4
Add a small amount of your plant-based butter to a pan over medium heat.  Let that melt and then add the batter covered BFree panini to the pan.
5
Cook for a few moments until its set and starting to take on color. Flip and cook the other side until golden and crispy.
6
Take the remaining sugar and coat the top of the panning and flip it over one more time. This time leave it to cook until the sugar melts.  Turn out onto a pan
7
Serve with blueberries, maple syrup and plant-based bacon.