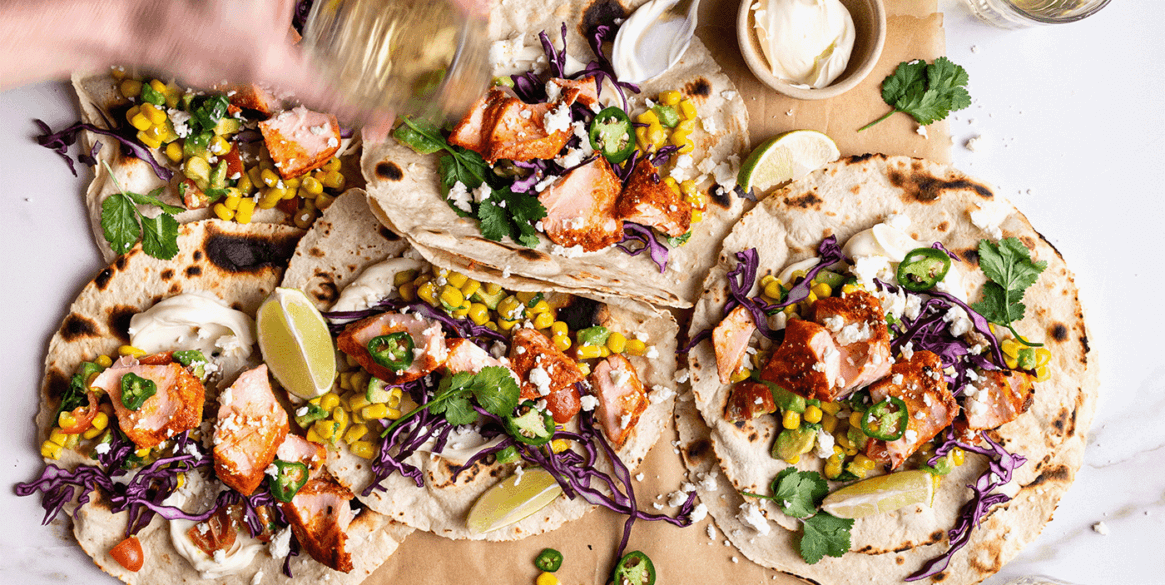 Ingredients
Gluten Free
Featured Product: Multigrain Wraps
Serves 4
Salmon
4 salmon fillets
1 tbsp smoked paprika
2 tsp ground cumin
Juice 1 lime
1 tsp sea salt
Good grind of black pepper
1 tbsp olive oil
Salsa
3 avocados diced
2 150g tins sweetcorn
100g chopped cherry tomatoes
Juice 1 lime
2 tbsp chopped coriander
1 tsp olive oil 1/2 tsp sea salt
Good grind of black pepper
To serve
2 packets BFree Multigrain wraps
¼ red cabbage shredded
Lime wedge
Small pot of sour cream
Sliced jalapeno chilli
100g crumbled feta cheese
Coriander leaves
Here's a quick, healthy, and vibrant gluten-free dish that's a breeze to prepare. The crispiness of salmon skin pairs wonderfully with the fresh rainbow salsa, creating a truly enjoyable combination. With juicy tomatoes, hot jalapeños (as many as you want), creamy avocado, and a tangy lime and feta twist, this easy and nutritious option is hard to go wrong with.
Why not give it a shot and treat yourself to a delicious meal?
Method
1
Preheat the oven to 200°C fan and line a baking tray.
2
Place the salmon fillets on the tray and squeeze over the lime. Sprinkle on the paprika, cumin, salt and pepper and drizzle with oil. Rub the seasoning onto the salmon fillets.
3
Place the salmon into the preheated oven and cook for about 15 minutes, until the salmon is just cooked through and darkened on top.
4
While the salmon is cooking, combine all the ingredients for your salsa and set aside.
5
Prep your sides and warm up your tortillas either in a hot dry pan to blacken a little or in the microwave or oven wrapped up.
6
When the salmon is cooked, serve on a platter with all the sides in little bowls for everyone to serve themselves.