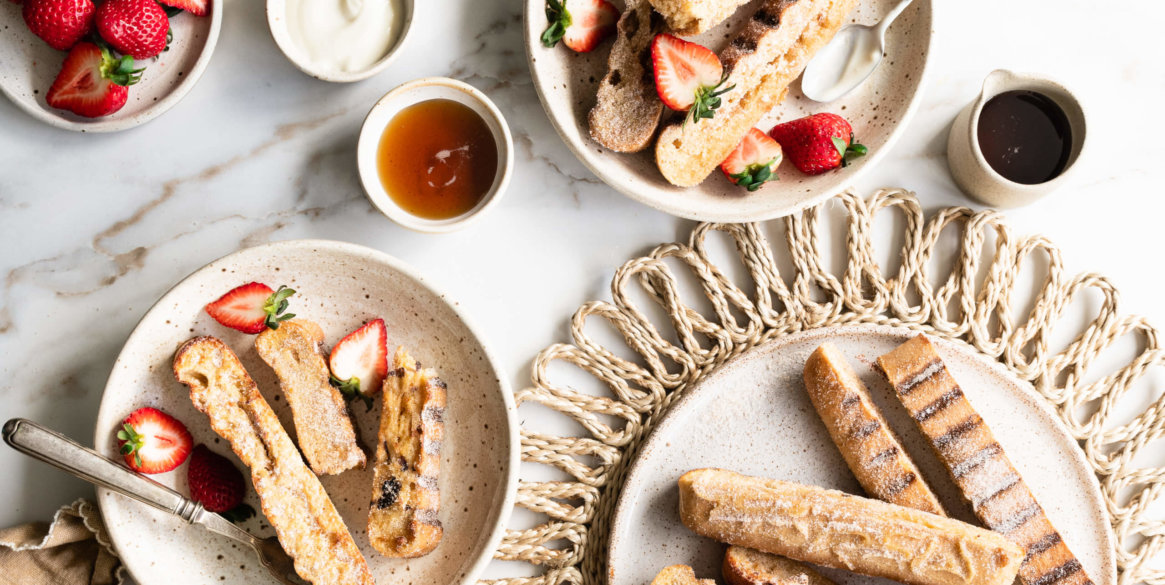 Ingredients
Gluten Free
Serves 2
2 BFree Panini Rolls
2 eggs
125ml whole milk
1 tsp vanilla bean paste or extract
2 tbs maple syrup
½ tsp ground cinnamon
Pinch sea salt
Cinnamon Sugar
50g caster sugar
1 tsp ground cinnamon
To serve
Maple syrup
Berries of choice
Yogurt of choice
Method
1
In a medium bowl mix together the eggs, milk, maple, vanilla, cinnamon and a pinch of sea salt. Whisk until combine and pour into a shallow baking dish.
2
Cut each panini into 3 length ways and place into the baking dish to soak up the egg mix. Rotate the panini sticks so all sides absorb the egg mix.
3
In a small bowl, combine the sugar and cinnamon and spread onto a plate. Set aside.
4
Heat an air fryer to 170°C OR a non stick pan with butter/oil of your choice.
5
Once the panini sticks have absorbed most of the egg mixture, place in the air fryer or cook in batches in the pan turning often until lightly cooked through and crisp and golden on the outside.
6
Once ready, toss in the cinnamon sugar and serve with lashings of maple syrup berries of choice, and a dollop of yogurt on the side.